Estel Group | The office professional enters the home: multifunctional objects for working at home, from the living room to the kitchen and the bedroom
After more than 18 months of waiting, Estel returns as a protagonist to Milan during Design Week 2021 with a series of new hybrid products designed for Smart Working.
The new challenge linked to the Covid 19 pandemic is to improve well-being, safety and productivity also for remote workers. Building on our know-how in the office furniture sector, without forgetting our origins in the world of home furniture, we have developed a series of products that blend in well with the home environment. Aesthetically pleasing solutions with a professional background: ergonomics, certifications and safety are in fact the inspiring principles of the Home Office proposals.
The aim is to improve the productivity of those who, by choice or necessity, find themselves working from home: we have renamed our approach Italian Smart Office Everywhere, because we strongly believe that with the right tools, alternating between working in person and working remotely can become a pleasure and not a necessity.
DISCOVER THE NEW ESTEL COLLECTIONS
– Exhibition stand @ Supersalone at Fiera Milano Rho – Hall 4 lane H08. From Sunday 5th September to Friday 10th September, 9.30am-7pm;
– Estel showroom in C.so Matteotti 3 from Monday 6 September to Friday 10 September.
The showroom will be open all day long, as part of the widespread Fuorisalone event.
Products in the pictures: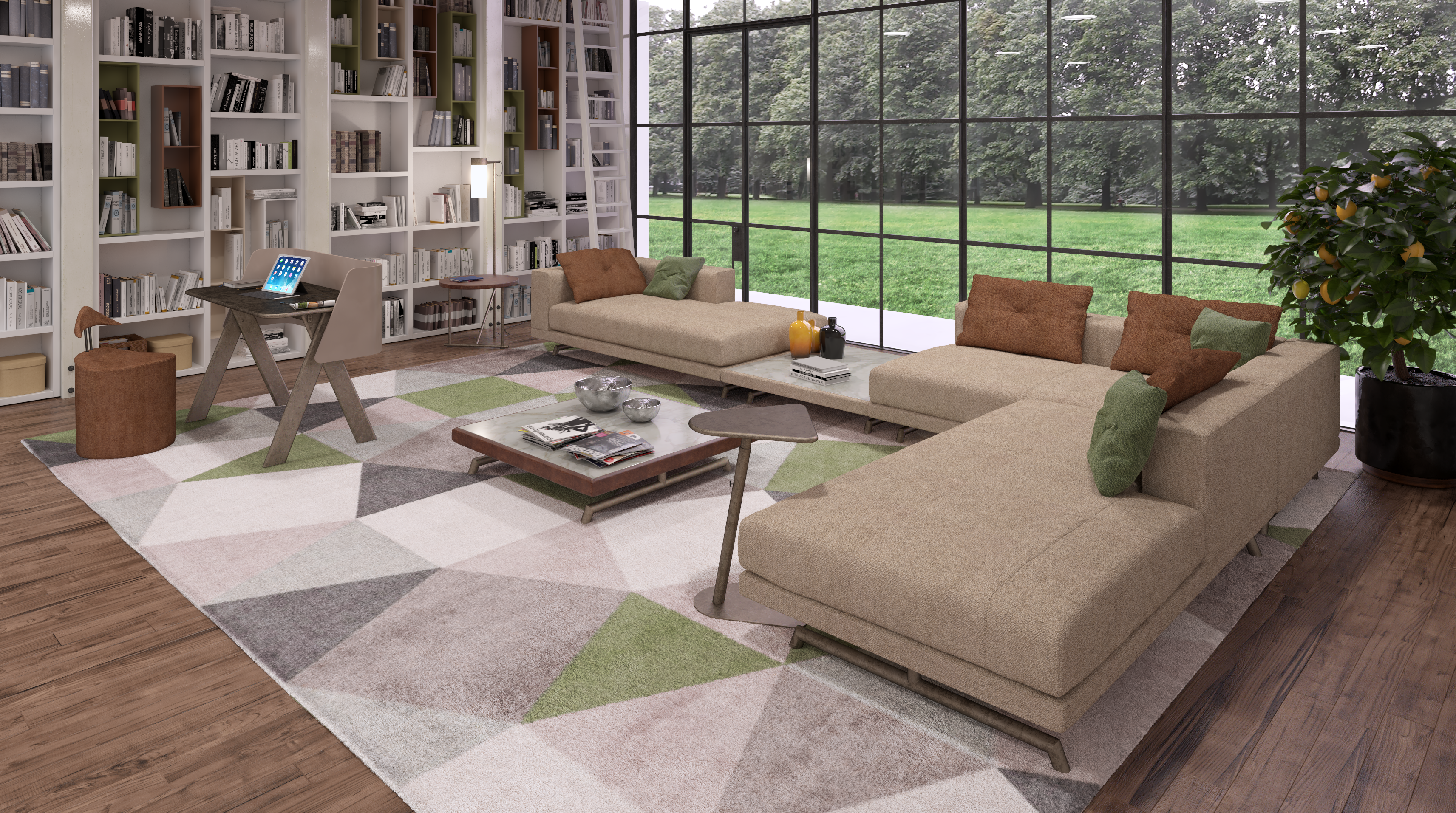 -SOFA AND COFFEE TABLE SANMARINO
A system of cosy and spacious modular seating with a rigorous design, but very comfortable, that allows you to create linear, corner or chaise longue compositions. The depth of 105 cm gives the product maximum comfort. Painted metal legs and feet support the sturdy structure. Backrest and cushions, padded with fire-retardant polyurethane foam, rest on elastic bands and can be upholstered in fabric, leather or eco-leather. The SanMarino sofa can be integrated with lacquered tables, in wood or ceramic, either as seat dividers or as a side table.
-SQUID HOME OFFICE DESK (Design Francesco Favaretto)
Squid is the new desk designed by Francesco Favaretto, suitable for any place in the home. It features a top with wide rounded edges and a structure composed of 2 aluminum legs and 2 horizontal crosspieces. It is possible to apply a shield H45 cm covered in leather or eco-leather: this solution acts both as a "visual" partition and as a screen for sound absorption. Available three-leg stool with birch wood or upholstered seat.
-Table AMBROGINO (Design Rossana Molteni & Manuele Moscatelli)
-LANDSCAPE UP STOOL
-CONTROL with LUCIGNOLO LAMP (Design Alessandro Scandurra)
-MOBILE DESK
Functional desk for Home Office provided on four wheels, also foldable on both sides. In the centre there is a generous open storage unit with doors, a technical compartment for cables and a door for access to the electrical system. It can be transformed into a work table, study desk, dining table or meeting table. It passes ergonomics tests with its 60 cm of under-table legroom.
-POLA CHAIRS
-CADDY
Caddy is an original table – desk – container on wheels useful for the kitchen, bedroom or study. Two cylindrical containers, for storing bottles, boxes, books and jars, rest on a base with four ABS feet on wheels. In the central part, two hinged doors give access to further compartments (which can be used for storage and battery housing). There is a USB charging socket on the outside. The worktop is made of birch plywood or high-resistance matt lacquer; feet and swivel containers are made of metal (bronze, brass or pewter), while the metal doors can be painted in 16 different colours. Caddy is available in two variants: with a 130×90 cm or 90×90 cm H74 cm worktop, the latter with a height-adjustable worktop, from 74 to 122 cm thanks to a gas piston that can be activated with a knob positioned under the top. The 90×90 worktop can move 20 cm off its axis.

For more information visit: www.estel.com